Here's a little bit about her:
Dextras' work both as a sculptor and a photographer have led her to the field of ephemeral environmental art. Her art practice follows the seasons, working with ice in the winter and live plant materials in the summer. The intent with the sculptures it to let them follow their natural course of decay and to witness the process through photography (link to her Flickr).
Nicole Dextras is a graduate of the Emily Carr University of Art in Vancouver, BC Canada, where she has been a sessional teacher for the past 8 years. She has created ephemeral art installations in Toronto, Montreal, Vancouver, Dawson City YK and Bellevue WA. Her most recent installations include: "Legacy", "Les Noms" and "The River's Bride" produced during an art residency at the Klondike Institute of Art in the Yukon. In 2009 she exhibited at the Richard Levy Gallery in Albuquerque New Mexico as part of the city-wide Land Art Festival, the Wall Space Gallery in Seattle and the Port Angeles WA, Outdoor Art Park. Recent publications include Map Magazine from Australia, the 2010 Green Museum calendar, the Vancouver Sun and the Albuquerque Journal.
In 2008, she was artist in residence at the VanDusen Botanical Garden in Vancouver and at the I-Park Artist Enclave in Connecticut. She was awarded a Canada Council mid-career visual art grant and a provincial BC Arts Council grant.
And here's how she answered my 6 questions about creativity:
What inspires your creativity?

I surround myself with art as much as possible: galleries, books, artists. This allows me to be in the right frame of mind to get my own creative juices flowing. The more art I make the more creative I am. Being an artist that works with organic materials I am constantly inspired by plants so I can get inspired by just walking to the bus stop and looking at my neighbors garden! I got the idea for my first dress made of leaves from the cuttings I found in the alley near my house.

How do people respond to your creativity?
There are as many responses to my artwork as there are people. Since my artwork is ephemeral, it often raises the question of "why put so much energy into making something if it is not going to last?" Often when I am working onsite I get to have a dialogue about this with people and it is very engaging and rewarding. Sometimes though they just think I am the gardener and ignore me!
What is the wildest journey your creativity has taken you on?
Working for 2 months in Dawson City Yukon in January in minus 50 weather on an ice installation that only lasted one day.
Who loves you for your creativity?
My husband, my family and my friends. I am also an inspiration to the students I teach through my classes at Emily Carr.
In which ways do you see yourself as Breaking New Ground?

My environmental artwork is always ephemeral and this kind of work pushes the boundaries of the art world by breaking out of the confines of the traditional art gallery. For example in my next exhibition I will be showing photographs of the ice installations I have made in the past but I will also have an off site component where I will create spontaneous 3 dimensional ice poetry on city streets.
What's next for you?
I will be showing The False Creek Bride at the Winteruption Festival on Granville Island during the 2010 Olympics in February. It consists of storytelling inside a giant dress. I will be exhibiting Signs of Change at the Grunt Gallery in Vancouver in April 2010.

And here's something that inspires her creativity: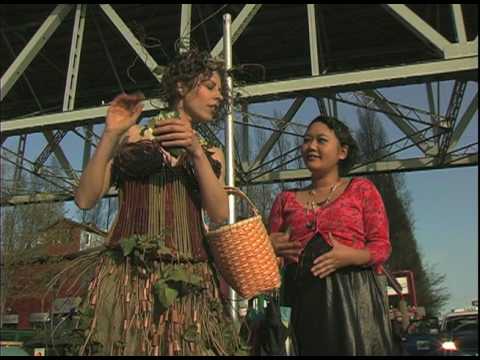 Nicole, thank you for sharing your creativity and artwork with us- amazing!
—
Stay tuned for next week's Man of the Month interview with the inspiring Philip Clement!