October's Man of the Month is:
Luke Detheridge
Here's a little bit about him:
Luke Detheridge is a performance/interactive media based artist, currently living in Vancouver, BC. Raised in St. Catharines, Ontario and fueled by his love of motion picture, he journeyed west after high school for film education. After graduating Capilano University for set decoration he re-immersed himself into education focusing on his BFA from Emily Carr University. Since then he has explored his craft of various types, earning him noted roles as a set decorator, costume designer, performer, interactive media artist and child educator/entertainer.
His contributions include: regularly teaming up with Holopath Productions, setting up interactive installations at the 'Shambhala Music Festivals' Aug, 2007-2011.
Child education with 'A Bright Red Crayon' in combination with Vancouver Science World and Maker Faire focusing on alternative energy installations and recycled craft workshops 2009-2011.
Event organization, stage design and installation, performance and open learning workshops with 'Gropp's Gallery' 2009-2011.
Luke continues to maintain a practice of interactive costuming and sculpture for the past 8 years, which have attributed to numerous awards, scholarships and public swarming and enjoyment.
And here's how he answered my 6 questions about creativity:
What does it mean to you to be creative?
We create, everyday of our lives, our story, our journey. To be creative is to act upon that which inspires you to create. To allow our perspective of reality to diversify, expanding and encompass alternative ways of living and our relation to others. Co-creation is something to strive for, it brings out the best in us and asks us to rise to the occasion of something far greater then just our own creative ideals.
What triggers your creativity?
Smiley and excited faces. When I see wonder in people's eyes and their minds churning, it stokes my fire! I love to energize the public and enhance community with my art, while inspiring the individual with their own acts of creation. It's a cycle that I am happy to take part in, which influences the focus of my art towards illumination and celebration. I also dream big, especially with costuming, pushing my own physical and creative limits. I find that costumes have a considerable way of bringing out what I like to call 'child eyes'. I feel especially happy providing a dynamic and visual stimulating touch to this city.
What hinders your creativity?
Social constraint is right up there, I see more laws being passed restricting personal freedom, irresponsible forestry and oil expansion, and the condition of the earth changing. That tends to bum me out a bit. In those disempowering moments I try my best to except the state in which everything is and in turn, deepen my purpose within it. I hold courage and love, for the future, and I feel privileged to share my journey with so many beautiful people.

Ork Costume debut at Aedan Gallery's opening night of "Aliens and Monsters" October, 2009
What's the wildest journey your venturesome spirit has taken you on?
Burning Man. To any burner, that statement sums it up. To everyone else I invite you to take part in the experience and find out for yourself.
I traveled down to Burning Man for the first time in 2007. Blake Shaulhauser and I, as well as a few others from the Cosmic Elves camp, designed and built a 3 story tetrahedral hammock village. A week in Black Rock City, Nevada Dessert, truly changed what I thought of as a possibility for interactive installation. As well as giving me overwhelming examples, left, right and centre of the beauty of a loving community and positive social change. I left with something to reach for, in life, in art.

What does being bold and provocative mean to you?
Having the balls to stand up for what you truly believe in, alone if necessary.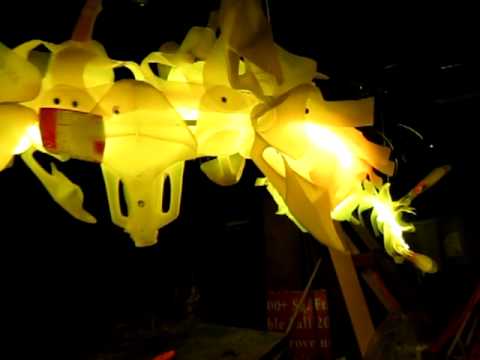 Video of a 16′ Snake-Creature made from 50 milk jugs…'Illuminatus Draco' as part of the Maker Faire, June 2011
What's next for you?
I plan to continue working with fellow artists and community groups, as well as expanding upon installation and costume productions into festivals, art, theatre and film. I will continue to explore and to challenge myself where ever my journey takes me.
And here's a video that inspires Luke's creativity:
Terence McKenna – Free Your Mind
Check out Luke's website.
Many smiley face thank yous Luke, you are a social positive!
To hear about the next Man of the Month, follow DollyFaye on Twitter!